Please see the attached guidance and notifications which outline the local and national approach to returning to play from March 29th. We are all delighted to be in this position, however, a safety first approach is a key priority and we must continue to deliver the excellent practice we all observed during last season's shortened campaign.
GAA Return to Gaelic Games
This week Warwickshire County Board received formal notification from Provincial Council Board that clubs can return to Gaelic Games and on the 23rd the Cabinet issued the following guidelines Coronavirus (COVID-19): grassroots sports guidance for the public and sport providers.
The GAA and the LGFA have published guidelines for a safe return to Gaelic games which will be in line with the Cabinets Roadmap.
Roadmap Step 1. From Monday 29thMarch we will be allowed to resume training only.
Roadmap Step 2. From Saturday 17thApril we will be allowed to play challenge games.
The Warwickshire COVID website has been updated with the following documents and we ask that you download these documents, digest the requirements and communicate these to your members.
– PCB Statement 21st March
– Update GGCB Guidelines March 2021
– Warwickshire GAA Guidelines to support the clubs implement both GAA and English government guidelines
– PNG photo showing who needs to what within a club and can be issued easily through WhatsApp groups
Please provide this information to your Executive and Covid Supervisors for implementation within your club.
The County Covid Supervisor will be available in the evenings only, to discuss any questions you may have.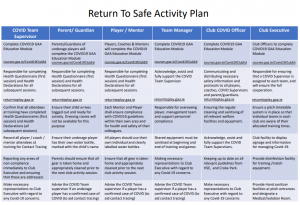 UKA-Risk-Assessment-Template-Clubs-Event-Organisers