It is with great sadness that we have been informed of the passing of George McGuigan.
From Moy in Tyrone, George was a pillar of the GAA in Warwickshire, Britain and beyond. He represented his county as a minor in the early 1950s before advancing through the Junior and onto the Senior team between 1953 and 1955. He emigrated to England in 1954 and would go on to play for Warwickshire in the 1957 All-Ireland Junior Football Championship Final in a team edged to the title by Mayo on a score line of 2-07 to 2-05.
George was a member of the Shamrocks club that won the Warwickshire Football Championship of 1959 and also played for O'Neill's and St. Brendan's. His contribution to the running of the GAA continued both on and off the field of play, giving his service to Warwickshire as Assistant Secretary between 1964 and 1968 (and again three decades later between 1995 and 2006), Treasurer between 1985 and 1987 and most significantly as Chairperson between 1972 and 1979.
George notably served the Provincial Council of Britain as its President between 1976 and 1979 before returning to Ireland in 1979 where in Louth he would continue his refereeing career, taking charge of the 1981 Louth Championship Final before going on to referee the 1982 Leinster Minor Football Championship Final of 1982 in Croke Park. He left his mark on the GAA on a global level, taking charge of the first Gaelic Football match in Bahrain while working in the Middle East in the mid-1980's.
George returned to Warwickshire, playing his part in the formative years of Páirc na hÉireann with the construction of the additional changing room facilities in the clubhouse. A loving husband to his wife Edith, our condolences go out to Edith, his children Jackie and Karl and grandchildren Emily and Mathew.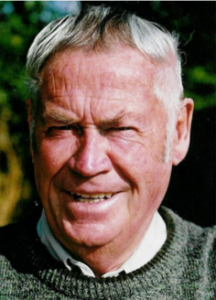 George McGuigan, 1932-2023
Ar dheis Dé go raibh a anam