Warwickshire Senior Football Champions 1990: Erin go Bragh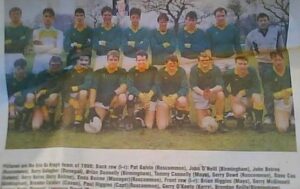 Match Report (archive courtesy of St. Barnabas)
Higgins the inspiration for EGB

Erin go Bragh 2-03 v 0-04 St. Barnabas

Erin go Bragh are the new Warwickshire Senior Football Champions thanks to a shock 2-3 to 0-4 win over the holders, St. Barnabas, in the final at Páirc na hÉireann on Sunday.
Erin go Bragh had recruited former Offaly star Johnny Mooney to train them and they showed the benefit of their preparation with a fine display from the start. Brendan Reilly opened the winners' account with a point in the third minute and John Beirne added another three minutes later. At the end of the first quarter Paul Kelly had the holders' only score of the half when he pointed but Erin go Bragh replied with a superb goal by their captain and man of the match, Paul Higgins, leaving them ahead by 1-2 to 0-1 at the interval.
Beirne pointed for the winners two minutes after the resumption and when the champions applied pressure they could only muster three points against an outstanding Erin go Bragh defence. Five minutes from the end Tommy Connolly, who had come on as a substitute, wrapped up the contest with a goal for Erin go Bragh.
Best for the new champions were Jerry Dowd, Brian Donnelly, Brendan Carolan, midfielders Higgins and Barry Gallagher, plus Connolly.
Impressive for St. Barnabas were Paul McLoughlin, Mattie Bane, Brian McDonald and Paddy Keane.