Warwickshire Senior Football Champions 2009: Sean McDermott's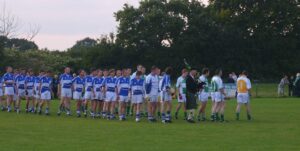 Match Report:
Sunday 13 September 2009

Sean McDermott's Master Tug of War to land Four-in-a-row

Sean McDermott's 1-10 v 0-07 Four Masters
Sunday's Warwickshire Senior Football Championship Final was certainly no place for the faint hearted, yet by the final whistle it was the experience of Sean McDermott's that proved decisive and secure four championships in a row. A second half goal by full back Conor O'Riordan gave McDermott's the vital edge in a closely contested game and despite a tenacious display that included five points from half forward Daniel Doherty, Four Masters were unable to drag themselves back into contention after McDermott's bagged the all important goal.
A largely patchy opening half saw McDermott's sprint into an early two point advantage thanks to scores by Christopher Hayden and Eamon Hanlon. Bidding for their first senior championship, Masters soon found their feet with a score by Doherty from thirty yards distance; moments later a clever pass by Doherty released Daniel Harkin who calmly pointed from close range, before a rampaging John Dowling burst along the right hand flank at the other end to fire over from an acute angle. With both sides conceding a host of frees in the first half, further scores from set pieces were always likely and a trading of points between Doherty and Hanlon kept the scoreboard ticking over.
Goal scoring opportunities were at a premium as both defences imposed themselves on the game, only one opportunity presented itself to Christopher Hayden who after a spate of pressure by McDermott's in the final third drove a flush fifteen yard strike towards goal, only to be denied by a spectacular diving save by John Tiernan. It proved the last score of a tight and scrappy half and despite having a slight wind advantage Masters went into the change of ends two points in arrears.
The second half was to prove a slightly more open affair as both sides pressed forward in search of victory. Once more it was McDermott's who began the brighter and after Hanlon landed another free, first half substitute Martin Slevin poached a close range point after Joseph Dowling saw his effort blocked down, extending the lead to four points in the process. Chasing the game and facing a growing breeze, Masters created a slick two pass move from a set piece; a clever catch and lay off by Declan Harkin presented Doherty with the opportunity to shoot from twenty yards and convert his third point of the afternoon. Masters' energetic half forward line was beginning to come into the game more and a speedy break down the right hand flank allowed Brian Cuffe to solo in and strike for goal. His effort cannoned off David Tierney's right hand post and fell to Mark Ryan, who quickly looped the ball over the bar.
McDermott's responded by asserting themselves in the midfield and after Paul Troope landed a well taken thirty yard point from play, Christopher Hayden pounced on a blocked effort to loop the ball over Tiernan's crossbar and re-establish a four point lead for his side. Indeed the side in green were gaining more and more possession as the half progressed and despite a swift counter attack leading to another clinically converted point by Doherty, McDermott's were about to land the all important strike. A fine individual score from Joseph Dowling, rounding his marker and firing over the bar from an acute angle, preceded the only goal of the game; this time Christopher Hayden's looped pass found full forward Dowling in the goalmouth and his quick flick to the oncoming O'Riordan resulted in the ball being ushered into the back of the net. With their advantage now out to seven points and only minutes remaining, it looked as though McDermott's had won the day.
Masters fought right to the final whistle and another Doherty free, his fifth point of the day, reduced the gap to six points. However they were unable to breach the McDermott's defence in the final moments, a last ditch Ryan free was batted away from the goal line to safety and proved the last piece of action. Ultimately a tight and fiercely fought final edged the way of an experienced McDermott's side, whose second half goal and increasing grip on possession proved the decisive difference on the day.
Sean McDermott's: David Tierney, David Lyons, Conor O'Riordan (1-0), Liam Gilbride, Ian Dooley, John McGlade, Stephen Moriarty (Martin Slevin 0-1), Austin Bennett, Paul Troope (0-1), John Dowling (0-1), Michael Hayden, Eamon Hanlon (0-3), Trevor Neville, Joseph Dowling (0-1), Christopher Hayden (0-3).
Four Masters: John Tiernan, Aidan McCormack, Noel Ewing, Neil Symmons, Sean Walton, Andrew Doherty, Stephen Feeney, John J Harkin, Brendan Harkin, Mark Ryan (0-1), Declan Harkin, Daniel Doherty (0-5), Ciaran Langford, Daniel Harkin (0-1), Brian Cuffe.