Warwickshire Senior Football Champions 2014: Sean McDermott's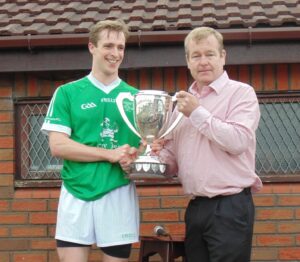 Match Report:
Sunday 5 October 2014

Hanlon hands McDermott's poignant Championship success
Sean McDermott's 1-08 v 0-10 John Mitchel's (Replay)

"We dedicate this victory to Coley Folan – this is for him" – so concluded Niall McCooey's speech after Sean McDermott's lifted the Kiely Bros. Warwickshire Senior Football Championship, Eamon Hanlon's goal fifteen minutes from time proving the difference in yet another tight encounter between these two old foes.
After losing in last year's decider by just the single point, this year they held on despite coming under intense pressure from Mitchel's in the closing minutes and McCooey paid tribute to his side's commitment to the cause: "We love our club and we are very passionate about it. We've trained hard and the lads have really stepped up their fitness with Antony (Moriarty) and Michael (Hayden). We have to thank all the people behind the scenes at the club, our manager Keith Sweeney and a special mention to the young, English born lads in the squad – even at just the ages of 18 or 19 they are a credit to the club and themselves."
Sunday's replay at Pairc na hÉireann followed a similar trend to the first game the week before, a nervous arm-wrestle of a match in which fine margins would prove the difference. This time around it was McDermott's who held the lead for the majority of the hour, despite falling behind to an early two point deficit thanks to points from Danny Crowley and Paul Garvey (free). A fine block by Niall Gilbride batted away Paul Garvey's point-blank strike on goal, while at the other end a superb save from Andrew Doyle kept McDermott's at bay before Conal Dowling followed up to fire wide of the near post. Still, McDermott's hit back with a fine strike by corner-back Liam Gilbride and when Ted Duffy stepped up to slot over two frees in a row they edged into the lead for the first time.
With momentum on their side, Macs came close to goal when Joe Owens forced another excellent save out of a diving Doyle. Still, Duffy was continuing his fine form from the set piece by slotting over two more frees that kept his side ahead at the interval. Just like the first-half, Mitchel's opened the second in sparkling form as Enda Molloy stepped inside the forty-five to land a fine score to halve the deficit before Garvey wiped it out completely with his second point. McDermott's responded to re-establish their advantage, Duffy cutting inside to fire over his fifth point before Padraig Quaid burst through the Mitchel's defence to fire over the bar via the outstretched hands of Doyle. In a pivotal few moments midway through the half McDermott's extended their lead to six, after Duffy popped over his fifth point a follow-up attack down the right saw a cross pass release Hanlon and the wing-forward calmly tucked the ball beyond Doyle for the only goal of the game.
Needing scores quickly to get back into the game, Mitchel's duly responded. Garvey led the charge from full-forward, collecting a pass from Molloy to loop over from thirty metres out before adding his second free to reduce the margin to four. A jinking run from the right earned Garvey a golden chance to strike for goal, however his low effort could only ripple the side netting. Nonetheless the pressure was growing and was only intensified when Andy Willis received a straight red seven minutes from time – now Mitchel's had the man advantage in an area of the field where fine margins were everything. Substitute Chris Brough drove forward to add a point from the right flank, before James Loney slotted over his second free to bring his side within two points going into the closing minutes.
Despite the possession and the pressure Mitchel's could only add one further score from a close range Garvey free, three late wides prevented an equaliser forcing extra time, while at the other end Duffy pulled a potential winning free wide of the near post. It was tense, it was no place for the faint-hearted, but it was a day for Sean McDermott's who progress to an All-Britain Quarter-final clash with Newcastle's Cú Chuláinn's.
Player of the match:
Returning captain Niall McCooey was crucial in roaming up and down the field for McDermott's.
Score of the match:
Liam Gilbride advanced from corner-back to launch a long distance effort high over the bar
Wides: Sean McDermott's (7) 10, John Mitchel's (4) 8.
Frees for: Sean McDermott's (10) 19, John Mitchel's (9) 16
Black Cards: Sean McDermott's 0, John Mitchel's 0.
Yellow Cards: Sean McDermott's 1 (Conal Dowling 24), John Mitchel's 0.
Red Cards: Sean McDermott's 1 (Andy Willis 53), John Mitchel's 0.
Scorers:
Sean McDermott's: T Duffy (0-6, 5f); E Hanlon (1-0); L Gilbride (0-1); P Quaid (0-1).
John Mitchel's: P Garvey (0-5, 3f); J Loney (0-2, 2f); D Crowley (0-1); E Molloy (0-1); C Brough (0-1).
Teams:
Sean McDermott's: M Felgate; L Gilbride, D Walsh, R McCoombe; N Gilbride, P Quaid, R Bennett; T Duffy, A Willis; J McDowell, T Murphy, E Hanlon; C Dowling,  J Owens, B Garrigan. Subs: M McMahon (for L Gilbride 61).
John Mitchel's: A Doyle; D Bell, P Donnelly, P Crehan; F Doyle, P McCloskey, J Loney; C Courtney, D Waldron; S Hennessy, E Molloy, R Henry; D Crowley, P Garvey, L O'Shea. Subs: C McDermott (for Bell 16); C Brough (for McDermott 48); G Boyle (for O'Shea 61).
Referee: S Walsh (Lancashire)