Warwickshire Senior Hurling Champions 2016: John Mitchel's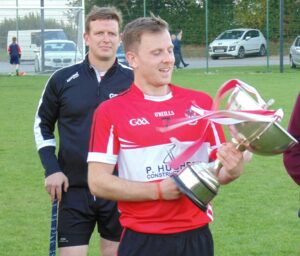 Match Report:
Sunday 9 October 2016
Mercurial Mitchel's retain county crown
John Mitchel's 6-12 v 0-11 St. Barnabas

John Mitchel's are Warwickshire champions once again after a comprehensive six-goal performance proved enough to defeat St Barnabas.
Despite a gutsy second-half performance from the challengers, the strength in depth and experience of the Mitchel's panel proved too much for the Nottingham club who nonetheless are on an upward curve of their own. They reacted well to going down to early frees from Padraig Crehan, with Conor Robbins landing a free of his own and then latching onto a through pass from Chris McDonald for an excellent leveller. However, Mitchels got into their stride and soon after Crehan landed his third free from distance they struck the game's opening goal when Michael Dillon batted a dropping shot into the path of Des Kelly who swept home.
A second goal followed almost immediately, Ogie Long powering his way in from the left to square across to John Reddan for a ten-metre finish past Dillon. With Mitchel's now in full swing it could have been three when Willie Allen darted towards goal and squared into the path of Kelly who turned to shoot narrowly over the bar. Barnabas needed a foothold in the game to resurrect their challenge and they found one through Pauric Treacy who was to have a fine game from midfield, the number eight launching a free over Sean Hennessy's bar from midfield.
Crehan responded with another free, his fourth, but Barnabas were starting to make a better fist of things in their midfield and half-back lines and when JP Costello broke forward down the left the wing-back lobbed a teasing shot into the goal mouth which needed a firm block from Hennessy to prevent an inbound Kelvin Magee from grabbing a goal. Another Treacy free helped to generate some more momentum for Barnabas but they were pinned back in the closing moments of the first-half as Mitchel's hit the attack button once more to land two points through their wing-forwards Alan Brooks and Allen, the latter becoming more and more prominent as the link man across the field.
Facing a nine point deficit at the restart, a fast start was essential to instil confidence in the Barnabas ranks and they fired a warning shot through a thirty-metre effort from Magee that landed just wide of target. Despite losing another point to Reddan from a quick Mitchel's counter-attack Barnabas produced their best moments of the match in a five minute spell that began with a point from Magee before a clever Robbins switch pass shifted the play across to Colm McBride to fire over from forty metres. They almost grabbed their opening goal when a low trajectory Treacy free was flicked inches wide of Hennessy's far post, yet back they came once more with a superb point from long distance by midfielder McDonald.
Mitchel's re-doubled their efforts to quash any chance of a comeback though, Dillon producing a quick double save to keep Crehan and Reddan at bay before succumbing to Mitchel's third goal as a scramble in the goal mouth resulted in a close range Reddan conversion. A slick pass from Chris Brough released Reddan for the point of the match, a sublime strike from wide of the left that dissected the posts.
Barnabas substitute Barry Gaffney popped up with a close range point in response but the game petered out in the closing minutes with the result effectively confirmed. Mitchel's grabbed two late goals, including a close range free emphatically lashed into the net by Kieran Boxwell, while McDonald received a second yellow to reduce Barnabas to fourteen in the final moments.
With Roger Casement's Shane Morrissey joining Crehan on this year's Lory Meagher Champion 15 selection, the new faces introduced this year can only help to improve the overall levels of hurling in the county and ultimately give a boost to the Warwickshire panel for next year's campaigns in the National Hurling League and Meagher Cup.
Player of the match:
Willie Allen (John Mitchel's) Tireless display from the wing-forward who was every-ready to link the play and spring attacks for Mitchel's.
Wides: John Mitchel's (9) 18, St Barnabas (3) 11.
Frees for: John Mitchel's (6) 8, St Barnabas (7) 10.
Yellow Cards: John Mitchel's 1(Ogie Long 19); St Barnabas 2 (Chris McDonald 13 & 60).
Red Cards: John Mitchel's 0; St Barnabas 1 (Chris McDonald 60).
Scorers:
John Mitchel's: J Reddan (3-2); D Kelly (2-3); P Crehan (0-4, 3f); K Boxwell (1-0, 1f); A Brooks (0-1); W Allen (0-1); J Quinn (0-1).
St Barnabas: P Treacy (0-4, 3f); C Robbins (0-3, 2f); B Gaffney (0-2); K Magee (0-1); C McDonald (0-1).
Teams:
John Mitchel's: S Hennessy; S Conlon, D Heffernan, T Kelly; C Brough, D Kennedy, M O'Reagan; K Boxwell, R Curley; A Brooks, P Crehan, W Allen; O Long, J Reddan, D Kelly. Subs: J Quinn (for Curley 35); B Reilly (for Long 49).
St Barnabas: M Dillon; J Duffy, S McNamara, R O'Donoghue; JP Costello, C McBride, F O'Callaghan; P Treacy, C McDonald; K Murphy, N McNamee, K McGee; D Millea, C Robbins, L Greaney. Subs: B Gaffney (for Greaney 43); P Curran (for McNamara 57).
Referee: P Hoey