Warwickshire Senior Football Champions 2012: Sean McDermott's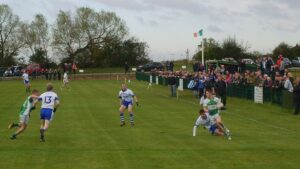 Match Report:
Sunday 4 November 2012

McDermott's reclaim Warwickshire after dramatic finale
Sean McDermott's 3-11 v 3-10 John Mitchel's (Replay, After Extra-time)

With barely a minute to go, Christopher Hayden sent a low ball right across the goalmouth to place one of the most controversial Championships in recent years up for grabs. Joseph Dowling's emphatic finish proved the clincher after an epic final which saw both Sean McDermott's and John Mitchel's go toe to toe for the full seventy minutes. Mitchel's had one hand on the title after Benny McKenna slammed home his side's third goal with four minutes left on the clock, yet there was still one final twist in the tale as Dowling latched onto a low ball to dramatically fire home for McDermott's.
Sunday's replay was in marked contrast to the low-scoring contest a fortnight prior, with both sides raising early green flags. Despite conceding from James Loney's early score,  McDermott's ratted home the opening goal of the game after just two minutes of play as Joe McBrien lobbed the ball into the hands of Antony Moriarty who cut inside to fire past Tim Cooney. Yet Mitchel's matched that effort with their opening goal, Ciaran Grace bursting through to blast the ball high into the roof of the net. With those early goals, the stage was set for a pulsating final.
Despite a Loney free pushing Mitchels two points ahead, McDermott's were about to embark on a purple patch that saw six points notched in succession. A free out wide from Moriarty started the run and further scores from Michael Hayden and Niall McCooey came as a result of high pressure in midfield. A break down the right wing saw Conal Dowling released through on goal, however the corner-forward was denied by a fine save from Cooney at his near post. Nonetheless, another Moriarty free soon followed and after Austin Bennett played Eamon Hanlon through into space the wing-forward drilled another effort between the posts to establish a four-point advantage for his side.
Mitchels redoubled their efforts to gain more of the ball and the lively Enda Molloy proved the catalyst for much of the good work in the closing ten minutes of the first-half. Molloy popped up to fire over the first of two points from thirty metres out, before a looping ball to the back post saw Gareth Boyle denied not once by twice by a sprawling Macauley Felgate. Another searching ball into the goalmouth saw McKenna rise highest to fist the ball over the crossbar and with two minutes remaining before the interval a breakaway from midfield by Molloy released Sean Smith to thump the ball straight past Felgate for Mitchel's' second goal. It was a pivotal moment for Mitchel's, having weathered the earlier storm they were now changing ends a point to the good.
This see-saw final was far from over however and once more McDermott's fought back. Again it was Moriarty who produced the all-important scores, the corner-forward making no mistake converting two frees in quick succession. Then, as Hayden sent a high ball deep into the goalmouth, Moriarty leapt highest to flick the ball past Cooney and into the back of the net. Mitchel's had Cooney to thank with the next attack, the goalkeeper doing well to block substitute Christopher Hayden's close range strike on goal. Back and forth the game went, Grace replying for Mitchel's with a fine score only to have Moriarty cancel it out at the other end with an excellent strike from out wide. Referee Mattie Maher kept a tight lid on the game, with both sides reduced to fourteen after Niall Gilbride and Ciaran Clifford were sent off and ultimately reduced to thirteen with two further red cards in the closing moments.
The game was moving rapidly towards a thrilling finale as Mitchel's refused to yield, another Loney free was followed by David Bell's excellent strike from distance and they could have taken the lead had Declan Gallagher's point-blank strike not been repelled by an instinctive Felgate parry – indeed had Mitchel's converted some of their six second-half wides they could have found themselves in front too. Still, with ten minutes remaining they drew level, Molloy proving the catalyst once more and firing high over the bar from thirty-five metres. Yet Moriarty remained steady from the set piece, tucking a central free between the posts to nudge McDermott's into the lead by the narrowest of margins.
Cue a final five minutes of frenzy – steering a lofted ball past Felgate, McKenna's goal looked to have all but sealed the win for Mitchel's. Yet it was McDermott's who had the final say in the final throes as a scramble in the goalmouth saw the breaking ball fall to Hayden, whose low ball was swept home by Dowling to seal the title for Sean McDermott's.
Player of the match: Antony Moriarty (Sean McDermott's)
Match Stats:
Wides: Sean McDermott's (1) 1, John Mitchel's (3) 9.
Frees for: Sean McDermott's (8) 15, John Mitchel's (16) 30.
Yellow Cards: Sean McDermott's 4 (Conal Dowling 10; Eamon Hanlon 21; Antony Moriarty 31; Liam Gilbride 57), John Mitchel's 1 (Ciaran Clifford 41).
Red Cards: Sean McDermott's 2 (Niall Gilbride 56; Michael Hayden 70), John Mitchel's 2 (Ciaran Clifford 56; Tim Cooney 69).
Scorers:
Sean McDermott's: A Moriarty (2-6, 4f); J Dowling (1-0); M Hayden (0-1); N McCooey (0-1); T Smith (0-1) E Hanlon (0-1); K Melody (0-1).
John Mitchel's: B McKenna (1-2); C Grace (1-1); J Loney (0-4, 3f); S Smith (1-0); E Molloy (0-2); D Bell (0-1).
Teams:
Sean McDermott's: M Felgate; L Gilbride, D Walsh, R Bennett; I Dooley, M Hayden, N Gilbride; J Dowling, N McCooey; T Smith, A Bennett, E Hanlon; C Dowling, J McBrien, A Moriarty. Subs: C Hayden (for C Dowling 40); J Maguire (for Smith 53); K Melody (for Hanlon 60); S Moriarty (for McBrien 67).
John Mitchel's: T Cooney; M Boran, S Ahern, C Brough; P Donnelly, P Healy, C Beehan; JJ Ambrose, B McKenna; J Loney, E Molloy, D Gallagher; C Grace, S Smith, G Boyle. Subs: C Clifford (for Boran 17); D Bell (for Boyle 41); G Boyle (for Ambrose 59).
Referee: M Maher (London)