Warwickshire Senior Football Champions 2020: Sean McDermott's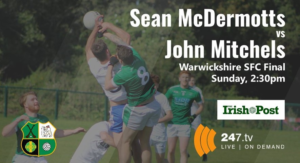 Match Report:
Sunday 1 November 2020

Powney powers Sean McDermott's to Seven-in-a-row 
Sean McDermott's 4-13 v 2-06 John Mitchel's

Title number thirty-two for Sean McDermott's duly arrived at a stormy Páirc na hÉireann on Sunday afternoon, the defending champions proving too much for challengers John Mitchel's as they sealed a seventh successive county title.
Joel Powney was star of the show for McDermotts, a total of 2-7 (4 frees) driving his team towards another title while Conal Dowling fired home 2-2 as McDermott's settled to their task after a bright opening for a Mitchels side playing their first county final since 2015. They got the ideal start when James Loney slotted over the opening score of the match from a free before Gareth Boyle and Tomas O'Keeffe looped over two more points as Mitchels made the most of the wind advantage.
Yet that advantage was shattered moments later when Declan Staunton released Dowling who unleashed a thunderbolt to the top corner of Niall Curley's goal. It brought McDermott's to life and they followed up with three successive Powney scores (two frees) before Mitchels could retaliate at the other end through O'Keeffe (free) and Conor Lenehan – but just as Mitchels looked to be gaining momentum back came McDermott's who moved the ball forward from the half-back line to ultimately release Powney for a controlled finish to the net past Curley. The corner-forward continued to be the out ball for McDermott's, slotting over two more points (one free) as they walked off the field at half-time seven points to the good.
Much of that endeavour could be put down to their dominance in midfield – Andy Willis had an influential game under the high ball allowing Niall Gilbride to forage forward. Mitchels shuffled the pack to try and stem the tide but they were unable to find a working combination to keep out a raiding McDermott's forward line. Powney's opening free extended that advantage but a rally from Mitchel's looked to give them some hope with O'Keeffe slotting over a free before substitute Cenk Akdeniz forced the ball over the goal line amongst a scrum of players.
Mitchels needed to capitalise on that goal but McDermott's tightened their grip with Powney sending over his fourth free of the match and Declan Staunton scoring on the rebound after Dowling struck the post with an inventive backheel. Gilbride got in on the scoring with a surging run up the right before substitute James McDowell drilled over from open play as McDermott's closed in on the title.
With just a few minutes remaining there was a glimmer of hope for Mitchel's when Patrick Smith pounced from close range to net his side's second goal and moments later an almighty scramble in the McDermott's goalmouth couldn't find the mark, Michael Mannion clearing at the back post. That glimmer of hope was extinguished with Dowling rolled in his second goal of the game after some good work in the build-up by Gilbride and Powney and fittingly it was Powney who had the last word at the very end as he pounced from close range to beat Curley for a fourth.
Yet for all the variables such a condensed, disruptive backdrop can bring the final outcome for 2020 hasn't changed – Sean McDermott's remain the team to catch.
Player of the match:
Joel Powney (Sean McDermott's) The nineteen year old forward has been superb in this year's Championship but this was his best performance, 2-7 a just reward at corner-forward.
Teams:
Sean McDermott's: M Felgate; D O'Brien, L Gilbride, D Munnelly; L McKeever, M Mannion, J Dowling; A Willis, N Gilbride (0-1); J Powney (2-7, 4f); C Hayden (0-1), J Hallahan; D Staunton (0-1), C Dowling (2-2); C Folan. Subs: M McMahon (for McKeever 16); J Owens (for O'Brien 47); J McDowell (0-1, for Munnelly 53).
John Mitchel's: N Curley; A Higgins, P Crehan, C Heaney; M Talbot, J Loney (0-1, 1f), M Hagan; C Magee, C Lenehan (0-1); B Fallon, S Hegarty, D Kennedy; P Smith (1-0, T O'Keeffe (0-3, 2f), G Boyle (0-1). Subs: C Akdeniz (1-0, for Fallon 30); S Smith (for Hagan 47); A Kavanagh (for Kennedy 50).
Referee: C Heffernan