Warwickshire Senior Hurling Champions 2010: Fullen Gaels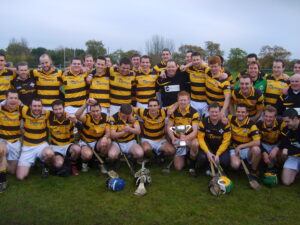 Fullen Gaels won their first Warwickshire Senior Hurling Championship in 2010 and they would go on to lift their first All-Britain Junior Hurling Championship that November.
The match report below is from that Provincial Final:
Fullen Gaels weather late storm to land British Title
Fullen Gaels 2-13 v 2-08 Brothers Pearse (London)

Out of the gloom of a late Autumn afternoon at Pairc na hÉireann emerged new Provincial club champions in the form of Fullen Gaels, who weathered a late storm to claim the All-Britain title. Leading by five points at the interval a superb second-half goal by Conor Cafferty looked to have propelled the Lancashire side to victory, however two late Jimmy Mulcahy goals produced a frantic ten-minute finale.
The free-taking abilities of Kevin Codd were always likely to play an integral part throughout and the midfielder's first attempt on the game sailed effortlessly over the bar to set the tone for the day. Both Codd and counterpart Kevin Falvey were imperious from the set piece, contributing eleven points between them. Falvey stepped up to slot over his first of six scores on five minutes, before Chris O'Connor cleverly hooked over his first score of the afternoon from thirty yards out. A long range conversion by half-forward Ross Connor brought Gaels level before Codd converted three points in a row to restore his side's advantage, the second of which was a fine strike from the middle of the field.
Both Eamon Hansberry and Kevin Driver were proving stumbling blocks as Brothers Pearse searched for their full-forward line as early as possible and with Gaels lobbing ominous efforts into the goalmouth they drew a penalty for a shirt tug on the half-hour mark. A low strike from Codd was repelled magnificently on the line by goalkeeper Jim Lenihan, however Brothers Pearse could not keep a second effort from nestling into the back of the net from the resulting goalmouth scramble. Suddenly Gaels were six points to the good and with Connor fizzing over another excellent effort from long distance, the Warwickshire County champions were in fine fettle. Brothers Pearse needed to respond before the half-time interval and they duly responded thanks to three clinical frees converted by Falvey. A belter from midfielder Mick Nestor in the last attack of the half brought the London side to six points but there was still some work ahead if they were to get back to parity.
Falvey struck first for Brothers Pearse with the first chance of the second-half, another clinical free reduced the margin to four points. Yet Gaels were comfortable in striking from distance, as Paddy O'Brien proved with a long range effort after cutting in from right half-forward. A scramble to repel a lob over the full-back line eventually saw Cafferty claim possession and drill an effort over the bar, yet the Gael's full-forward was to have greater joy in the next attack as he latched onto Conal Maskey's dynamic solo to slam a twenty yard shot into the back of the net. It was a pivotal moment in the final that saw Fullen Gaels stretch their lead to nine points – with little over twenty minutes remaining on the clock they were now in a very commanding position.
Facing down the barrel, Brothers Pearse responded superbly; a swift attack through the middle might have produced a goal if O'Connor's hand pass hadn't eluded a goal-poised Mulcahy, however the centre half-forward raised a green flag shortly afterwards as he pounced on loose possession ten yards out to sweep a shot past John Farrell. It not only raised spirits, it showed the way for the rest of the forwards who focused their efforts on landing a second goal; this duly came as Mulcahy forced his way towards goal to drive a narrow effort between Farrell and his right-hand upright. Suddenly a nine point lead became three and with Brothers Pearse enjoying the better of the territorial play, this final was in the balance again.
Brothers Pearse had their chances in front of goal in an exciting closing stage. Chris O'Connor almost re-directed a lobbed effort past Farrell only for his flick to fall wide of target, whilst Farrell produced a fine block to prevent Falvey from sending a late free through a wall of Gael's backs. The resulting 65 saw another frantic scramble and a bobbling shot towards goal, only for the ideally placed Shane O'Hanlon to mop up and clear from the goal line. At the other end, O'Brien and Connor converted counter-attack plays to create breathing space on the scoreboard but as time expired on Brother Pearses' comeback it was left to captain Codd to secure the game and the title with a 65.
Speaking after the game, Gaels manager Stan Murray-Hession: "Today's a fitting reward for all the hard work put in since training started in February. There's been a lot of personal sacrifice across the panel – we have a lot of unsung heroes right across the squad – and they are all a credit to the club. Fair play to Brothers Pearse, they showed great character towards the end today and really caused us problems. We couldn't have done this without our sponsors: Paul Lackey Civil Engineering Ltd, Optegra, Joe Brennan Haulage, the Whalley Pub and Fiddler's Green Pub. We owe a lot of thanks for the support they give to the club."
Key moment: Conal Maskey's direct run released Conor Cafferty to strike the second all-important goal for Fullen Gaels.
Player of the match: Kevin Codd was immense throughout in midfield, but based on the number of times "Well played Kevin Driver" was yelled from the sideline it would be hard to argue against the efforts of the Gael's half-back.
Fullen Gaels: J Farrell, P Breen, E Hansberry, B Griffith, K Driver, P Murphy, S O'Hanlon, K Codd (0-5), N Morris, N Connell, R Connor (0-3), P O'Brien (0-2), C Maskey, C Cafferty (1-1), A Gray (1-2).
Brothers Pearse: J Lenihan, J Given, R O'Brien, J Mulcahy, D O'Brien, B Mulcahy, F Mullins, L Sullivan, M Nestor (0-1), K Falvey (0-6), J Mulcahy (2-0), B Mulcahy, S Doyle, G McDonnell, C O'Connor (0-1).
Referee: P Hoey