Warwickshire Senior Football Champions 2017: Sean McDermott's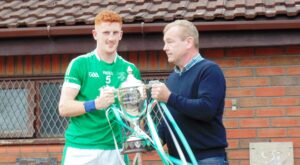 Match Report:
Sunday 24 September 2017

Fantastic Four for Sean McDermott's
Sean McDermott's 3-15 v 0-11 Roger Casement's

Sean McDermott's reaffirmed their status as top dogs in Warwickshire after a comprehensive victory over Roger Casement's confirmed their fourth consecutive county title.
On Sunday at the Pairc na hÉireann showpiece the only downside for McDermott's was two straight red cards either side of half-time for Ryan Bennett and Antony Moriarty but despite playing for nearly half an hour with thirteen they were able to keep Casement's at arm's length. Basking in some late summer warmth, a bumper crowd was on hand to witness the culmination of the Warwickshire season and it was the reigning champions who had the better of things after Kevin Ryan's opening point for Casement's.
Deployed to full-forward, Antony Moriarty landed three points in a row for McDermott's who came close to finding the net when Paul O'Neill fired wide and Liam Gilbride was denied by a goal line clearance. The talismanic Jack Keogh was trying his utmost to get Casement's back into contention and he converted a fine individual score to reduce the arrears to a single point but the pressure on the Casement's defence eventually told when a direct ball into the goal mouth culminated in Moriarty finding the back of the net despite the best efforts of Michael Coyle in the Casement's goal.
It got that much harder for Casement's when Cianan Folan raced through the heart of their defence to round Coyle and roll the ball into the far corner of the net; shortly afterwards they had their goalkeeper to thank after he produced a spectacular save to deny a thunderbolt from O'Neill. Possession and territory were firmly in favour of McDermott's from the midfield to the omnipresent duo of Niall and Liam Gilbride, the latter popping up on the right to land a fine score from an acute angle. Their confidence showed in their third goal five minutes before the break, a peach of a move instigated in midfield was developed by Conal Dowling's clever flick into the path of Gilbride who fire home from close range.
A tumultuous half left Casement's with a mountain to climb, but even with the two dismissals they were unable to pick a lock in the McDermott's defence and find that elusive goal. A brace from Keogh (one free) and points from Daniel Walsh and Cruise Kelly-Evans tried to kick-start a comeback but the rate of return was not enough. They did create a goal opportunity fifteen minutes from time when Michael Quirke looped an enticing ball into the goalmouth but just when it looked like the ball would cross the line, in came Dowling to mop up possession and set McDermott's away again.
Caolan McAleer came close to a fourth goal for McDermotts but was denied by another fine Coyle save but at this stage the result was not in doubt, O'Neill and substitute Christopher Hayden rounding off with close range points. To their credit Casement's never threw in the towel as they sought scores up to the very end, Mark O'Hare and Blaine Fallon pointing in the final moments to bring their tally to eleven.
Nonetheless, McDermott's were worthy winners and remain the team to beat in Warwickshire.
Player of the match:
Niall Gilbride (Sean McDermott's) A captain's display in the half-back line, providing energy and drive even with his team down to thirteen in the second-half. Wides: Sean McDermott's (3) 4, Roger Casement's (1) 5.
Frees for: Sean McDermott's (10) 19, Roger Casement's (13) 21.
Black Cards: Sean McDermott's 1 (Christopher Hayden 57); Roger Casement's 1 (Colm Nugent 55).
Yellow Cards: Sean McDermott's 2 (Mikey Pyne 25; Eamon Culliney 30); Roger Casement's 1 (Peter Reynolds 59).
Red Cards: Sean McDermott's 2 (Ryan Bennett 29; Antony Moriarty 44); Roger Casement's 0.
Scorers:
Sean McDermott's: A Moriarty (1-6, 3f); L Gilbride (1-1); J Owens (0-2); C Folan (1-0); N Gilbride (0-2, 1f); C McAleer (0-1); M Mannion (0-1); P O'Neill (0-1); C Hayden (0-1).
Roger Casement's: J Keogh (0-3, 1f); K Ryan (0-2); M O'Hare (0-2, 1f); P Reynolds (0-1); D Walsh (0-1); C Kelly (0-1); B Fallon (0-1).
Teams:
Sean McDermott's: M Felgate; M Pyne, K O'Brien, E Culliney; N Gilbride, L Gilbride, R Bennett; A Willis, P O'Neill; C Folan, M Mannion, C McAleer; J Owens, C Dowling, A Moriarty. Subs: C Hayden (for McAleer 47); D Staunton (for Folan 53); E Hanlon (for Hayden 57).
Roger Casement's: M Coyle; B Fallon, D Harte, C Kelly-Evans; D Hartnett, C Brown, P Kilkenny; P Reynolds, R Harrington; K Ryan, J Keogh, M O'Hare; A Cavigan, D Walsh, R Cunningham. Subs: M Quirke (for Walsh 39); S Keogh (for Fallon 41); J Meagher (for Harte 41); T Massey (for Harrington 47); C Nugent (for Cavigan 48); B Fallon (for Nugent 55).
Referee: M McLoughlin