Warwickshire Senior Football Champions 2011: St. Barnabas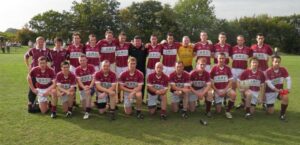 (Team photo courtesy of Pat Barry, St. Barnabas)
Match Report:
Sunday 2 October 2011

Nottingham GAA celebrates Barnabas breakthrough
St. Barnabas 1-12 v 0-12 Sean McDermott's

They were made to fight for it every inch of the way but an ecstatic St. Barnabas greeted the final whistle that heralded a landmark Warwickshire Senior Football Championship for the Nottingham club. Sunday's showdown at Pairc na hÉireann with 2010 champions Sean McDermott's, a repeat final from the previous year, turned out to be an enthralling contest which remained in the balance until the very end with Darren McCann's first-half goal ultimately proving the difference between the sides.
With this year's final scheduled for the first weekend of October, the unexpected element of the unseasonably humid weather added another dimension to the county's showpiece football event and the firm pitch made for a fast, open encounter. It was the challengers who were to outline the first statement of intent with Paul O'Donnell lobbing over a shot from close range, the full-forward was to prove a tricky customer in attack for Barnabas all afternoon and would prove instrumental later on in the game.
Yet despite some bright early possession for McDermott's, it was the side from the East Midlands who were looking more threatening in attack, exemplified by the game's only goal on the eight-minute mark; cutting through the middle of the McDermott's defence Aron McHugh brought a fine save from Macauley Felgate, only for Darren McCann to pop up at the far post and punch the looping ball into the back of the net. Felgate's superb goalkeeping served to keep Barnabas in check as they threatened to run riot on goal, the first of a spate of excellent saves coming shortly after the opening goal as McCann threatened to repeat his close range conversion only to be denied by an acrobatic block. McDermott's opened their account with full-forward Antony Moriarty collecting a direct pass to turn and lob over the bar, before Eamon Hanlon landed the first of two first-half points through a clinical free. Barnabas' link up play deftly opened up space in key areas, allowing the likes of Barry Gaffney and O'Donnell to grab further points from play as their side opened up a four point lead midway through the half.
A tempestuous closing ten minutes to the first-half not only saw McDermott's go down to fourteen men for a second yellow picked up by John McGlade but also saw another save of the highest calibre from Felgate. McCann could easily have secured a hat-trick by this point as he once again found space in front of goal to get a strike away only for the advancing keeper to charge down his effort, whilst a sweeping move across the full-forward line saw O'Donnell's final pass to McCann carry just too much weight to be turned into a goal scoring opportunity. In testament to their character, McDermotts did not panic and prised two points from play in the closing moments of the half to reduce the gap to four.
St. Barnabas had the better of the early exchanges as the second-half got into full swing, landing two points in quick succession from the boots of Jarlath Daly and McCann on the turn. With Daniel Morgan homing in on goal, a fine block by Ian Dooley prevented another shot from heading towards the target, however that would prove the last of the action at that end of the field for some time as fourteen-man McDermott's stormed their way back into contention with five unanswered points to draw themselves level. A Hanlon free instigated a dominant phase of territory as Barnabas struggled to get their hands on the breaking ball, indeed it was their opponents who were not only coming up with the ball in the middle of the park but making sure that their strikes on goal were consistently on the money. Midfielder Nigel O'Connor pointed from distance before Joseph Dowling played Donald Dwyer into enough space to loop an acute shot over Liam Leavsley's crossbar. Dwyer repeated his efforts a minute later to reduce the margin to just one point, before a spate of pressure on the Barnabas defence resulted in Stephen Crozier firing over the levelling score.
Barnabas finally managed to get some continuity back into their play and not before time as the tide had started to turn against them by the midway point of the second-half. A half-chance for substitute forward Jimmy Bradley required a goal line punch to safety from a retreating Dominic Walsh although a golden chance for McCann, after being played in on goal by the influential O'Donnell, went by as his shot shaved the top of Felgate's crossbar. Acting as the out ball for Barnabas, O'Donnell was prominent in closing out the game for the Nottingham side; he landed his fifth point from play with a fine strike from distance and played his part in Bradley's point conversion from twenty metres out as the lead was pushed out to three once more.
With just minutes remaining on the clock, McDermotts pushed everything forward in search of a vital goal. Their best chance fell to O'Connor who stole a march on the Barnabas defence to drive a low shot goalwards from twenty metres out, however a defiant block in the Nottingham full-back line saw his shot diverted away from target and to safety. With little space to manoeuvre, substitute John Dowling took his point to reduce the margin to two but with one final counter-attack in the last throes of the game midfielder Daly had just enough left in the tank to lob one last effort over the bar.
So an entertaining finale to the Warwickshire Senior Football Championship sees St Barnabas take the title up the M42 to Nottingham and cap a remarkable comeback to the senior scene in what is just their second season back at this level. After the game, St. Barnabas' captain Jarlath Daly paid tribute to Sean McDermotts, his own team and their supporters in kind: "Today was an unbelievable game, Sean McDermott's have been the best team, the team to beat, for so many years and we wanted to meet that test. We wanted to win this championship but without beating McDermott's there would be no credibility to it, last year they won with dignity and this year they have lost with dignity.
"We had unbelievable support out here today, the support for the sideline was really important when the sides were level (in the second-half) and it carried us over the line in the end. This one is for the supporters – we are one of the best supported clubs in Warwickshire, if not in Britain. Finally, it's an honour to captain this team, we stood up to the challenge today and credit to them after winning the league earlier this year and coming through the championship first round and the semi-final. A massive thanks to (our coach) Chris O'Hara, although he talks himself down he does such a big job for us and the biggest statement is that if he wasn't there, we wouldn't have won."
Player of the match: Paul O'Donnell (St Barnabas). The difference up front for St. Barnabas, a go-to man for his midfield and the pivotal playmaker in the final push once McDermotts had forced themselves back to parity in the second-half. Special mention for McDermotts' goalkeeper Macauley Felgate for his almost superhuman display in goal in the opening thirty-five minutes, producing three top quality saves to deny Barnabas a goal rush.
Match Stats:
Wides: St. Barnabas (3) 6, Sean McDermott's (3) 5
Frees for: St. Barnabas (6) 14, Sean McDermott's (9) 16
Yellow Cards: St. Barnabas 1, Sean McDermott's 2
Red Cards: St. Barnabas 0, Sean McDermott's 1
Scorers:
St. Barnabas: D McCann (1-2); P O'Donnell (0-5); J Daly (0-2); B Gaffney, D O'Hara, J Bradley (all 0-1).
Sean McDermott's: E Hanlon, S Crozier (both 0-3); D Dwyer, N O'Connor (both 0-2); A Moriarty, J Dowling (both 0-1).
Teams:
St. Barnabas: L Leavsley; P McCaughey, M Mulhern, J O'Hara; A McHugh, A Armstrong, S Friel; J Daly, D O'Hara; B Gaffney, D Morgan, D Melvin; F Treanor, P O'Donnell, D McCann. Subs: L Greaney (for D O'Hara 30), J Bradley (for McHugh 55).
Sean McDermott's: M Felgate; I Dooley, D Walsh, L Gilbride; J McGlade, E Hanlon, N Gilbride; S Crozier, N O'Connor; M Hayden, A Bennett, D Dwyer; C Hayden, A Moriarty, J Dowling. Subs: J Dowling (for Moriarty 50).
Referee: M McLoughlin