Warwickshire Senior Football Champions 2019: Sean McDermott's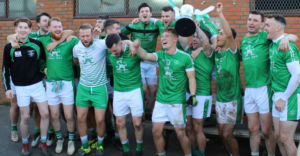 Match Report:
Sunday 6 October 2019

Steadfast McDermott's seal Six-in-a-row
Sean McDermott's 3-05 v 1-10 Roger Casement's

Last year the margin was two, this year it was one; ultimately the result remained the same as Sean McDermott's sealed their sixth successive Warwickshire Senior Football Championship and their eighth of the decade.
The champions had to navigate a fraught second-half against Roger Casement's after John Dowling's dismissal shortly before half-time. It was the fourth successive clash between the two clubs in the final and this was the closest of the lot as Casements ratcheted up the pressure on McDermott's who needed to be at their best defensively to keep the Coventry challengers at bay. Casement's will rue the ten wides they clocked up on a rain-sodden pitch at Pairc na hÉireann, the game only given the go-ahead after a pitch inspection on Sunday morning.
It was McDermotts who started the brighter of the two sides, Niall Gilbride opening the scoring from a free before Declan Staunton raced through to narrowly fire over Callum Brown's crossbar. Back came Casement's with a Daniel Walsh free that was followed by the first goal of the game, Tom Massey flicking a Walsh free in off the post. Joel Powney went close for McDermott's before they struck back through James McDowell who ghosted through the Casement's defence to fire low beyond Browne.
Browne needed to be alert to keep out a Gilbride rebound but McDermott's were looking threatening and when Paddy Willis took a chance from full-back it was his pass into Joe Owens that concluded an excellent team move for their second goal of the half. Jack Keogh landed two points (one free) in reply before the interval to reduce the deficit to three but it was the straight red shown to Dowling that gave them fresh impetus with the extra man in the closing thirty minutes. McDermott's doubled-down in defence and were rewarded with a swift counter-attack that culminated in Staunton being hauled down for a penalty which Conal Dowling tucked into the corner of the net.
It proved a crucial score, for McDermott's would go some twenty minutes without adding to it as Casement's looked to seize their numerical advantage. A dropping Keogh side line ball nearly ended with Massey flicking home his second goal yet points from Ronan Cunningham and Walsh from a forty-five nibbled away at the lead. McDermott's conceded twenty-three frees across the match, two of which presented Keogh with the chance to bring Casement's to within just one point.
With the championship firmly on the line, it started to look like Casement's were going to end a fourteen year wait for the title. McDermott's did extremely well in those closing stages to stifle their opponents, hitting them out of midfield to score a vital fifth point through Michael Mannion. Casement's needed to find two scores in the last few moments but they could only secure one, McDermott's rallying and harrying the ball away from them in the final seconds to run the ball out of danger and secure a hard fought victory.
Player of the match: Deaglan O'Brien (Sean McDermott's)
Marshalled his defence superbly in the second-half to keep Casement's at bay.
Wides: Sean McDermott's (4) 6, Roger Casement's (7) 10.
Frees for: Sean McDermott's (4) 10, Roger Casement's (11) 23.
Black Cards: Sean McDermott's 0, Roger Casement's 0.
Yellow Cards: Sean McDermott's 2 (Declan Staunton 21; Antony Moriarty 42), Roger Casement's 0.
Red Cards: Sean McDermott's 1 (John Dowling 29), Roger Casement's 0.
Teams:
Sean McDermott's: M Felgate; P Willis, D O'Brien, C Folan; D Staunton (0-1), L Gilbride, M Mannion (0-1); A Willis, N Gilbride (0-1, 1f); J Powney, J McDowell (1-0), J Dowling (0-1); C Hayden (0-1), C Dowling (1-0, 1 Pen), J Owens (1-0). Subs: J Hallahan (for Owens 40); A Moriarty (for P Willis 42); J Owens (for Moriarty 50); R Corrigan (for Folan 58).
Roger Casement's: C Brown; D Boyce, D Harnett, S Keogh; P McNicholas, D Walsh (0-2, 1f, 1'45), J Meagher; C Goodbody, C Kelly-Evans; P Kilkenny, T Massey (1-1), M O'Hare; R Cunningham (0-1), J Keogh (0-5, 3f), A Cavigan. Subs: K Ryan (for Cunningham 43); M Kerr (0-1, for O'Hare 46); D Harte (for Walsh 49); B Fallon (for Meagher 56).
Referee: D O'Neill