Warwickshire Senior Hurling Champions 2017: John Mitchel's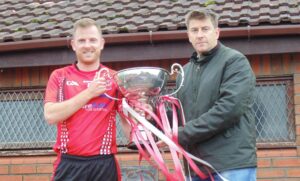 Match Report:
Sunday 1 October 2017
Commanding second-half secures another Mitchel's title
John Mitchel's 1-24 v 0-07 Roger Casement's

John Mitchel's are still the undisputed hurling champions of Warwickshire after a comprehensive second-half performance proved decisive enough to defeat Roger Casement's.
Sunday's final at a rain swept Pairc na hÉireann may have not gone the way of the Coventry club but nonetheless it provided further encouragement of the progress the club is making as they reached both the county hurling and football finals, as well as Saturday's appearance in the Ladies' All-Britain final that ultimately went the way of Kingdom Kerry Gaels.
Mitchel's fourth county title in a row came after a fairly even affair in the first-half was transformed by a much more dominant second period, albeit with the only goal of the game coming shortly before half-time from Niall Kennedy. Mitchel's hit the front early on through points by Emmet McCabe and Shane Caulfield (free) and it was Caulfield who proved pivotal for his side both from the deal ball and from open play throughout.
At the other end Ian Dwyer emerged as the danger man for Casement's and the full-forward opened his account with a well-struck free before following up with an excellent score from long range. Chris Convery popped up close to the left touchline to launch another fine strike over the bar before Dwyer edged Casement's into the lead. Caulfield struck a free in response for Mitchel's but a sweeping drive from Convery sailed over Michael Cremin's crossbar to once again push Casement's in front as they gained confidence.
Yet Mitchel's struck a crucial goal five minutes before the break when a long drive out of midfield found Kennedy, who burst through the Casement's defence and lashed a low shot into the back of the net from fifteen metres out. From that point on, Mitchel's did not look back and they took a firm grip of proceedings as they shuffled their full-forward line at the interval. Two frees from Caulfield and a sweet score by Reddan got things underway at the start of the second-half and with the reigning champions tightening things up in the middle of the park they kept adding to the score sheet.
Midfielder Paul Uniacke was up next with a score from open play, before Caulfield came to the fore once again to land three points in quick succession (two frees, one sixty-five). Casement's tried to find a crucial goal in an attempt to kick start a comeback but Cathal Stakelum's bouncing effort landed wide of target. Second-half substitute Kelvin Magee was causing problems running from deep and he ended the game with four points from open play, including a fine run down the right which ended in a thirty-metre drive straight over the bar and a follow up point from a similar position that had Wayne Healy to thank for a clever reverse pass.
With the game winding down Mitchel's kept their foot on the accelerator, McCabe landing a free before points from McCabe and Healy layered more gloss onto to the score line. To their credit Casement's kept plugging away and finally found the target with Dwyer lashing a dangerous shot narrowly over the crossbar but the day and the title belonged to Mitchel's, Kennedy and Magee rounding off the scoring in the final moments to ensure that for a fourth time in succession they would remain the team to beat in Warwickshire.
Player of the match:
Shane Caulfield (John Mitchel's) Ten clinical set piece scores capped a commanding display from the Mitchel's wing-forward. Wides: John Mitchel's (6) 17, Roger Casement's (3) 5.
Frees for: John Mitchel's (10) 19, Roger Casement's (6) 9.
Scorers:
John Mitchel's: S Caulfield (0-10, 9f, 1'65); N Kennedy (1-2); K Magee (0-4); E McCabe (0-3, 1f); J Reddan (0-2); P Crehan (0-1); P Uniacke (0-1); W Healy (0-1).
Roger Casement's: I Dwyer (0-5, 3f); C Convery (0-2).
Teams:
John Mitchel's: M Cremin; R Curley, A Downey, S Ahern; M O'Reagan, W Allen, D Bruen; J Reddan, P Uniacke; S Caulfield, N Kennedy, E McCabe; P Crehan, E Ryan, D Kelly. Subs: S Brough (for Ahern 30); K Magee (for Ryan 30); W Healy (for Kelly 30); C McDermott (for Curley 40).
Roger Casement's: C Boyle; M Nolan, K Boyle, L Fairgreaves; M Holland, J Meagher, L Whelan; S Clarke, J Keogh; J McQuaid, C Stakelum, J Hughes; C Convery, I Dwyer, C McMullan.
Referee: E Naughton