Warwickshire Senior Football Champions 2015: Sean McDermott's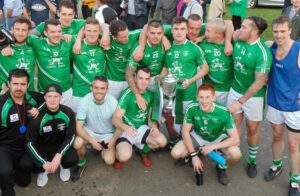 Match Report:
Sunday 4 October 2015

Dowling decisive as McDermott's win epic replay
Sean McDermott's 2-10 v 0-15 John Mitchel's (Replay, After Extra-time)

It had goals, it had red cards, it had pressure scores, it had fight-backs and in the end it had a man coming out of retirement to win it: Joseph Dowling grabbing a dramatic winning goal deep into extra-time as Sean McDermott's retained their Kiely Bros. Warwickshire Senior Football Championship.
In a game jam packed with talking points, even that winning goal brought out a multitude of opinions from everyone present at Páirc na hÉireann as to whether there was a foul in the build-up to the winning goal, but as referee Ronan Barry let play continue Dowling steadied himself to fire past Andrew Doyle and nudge his side back into the lead. Even then there was still four minutes of frenzy, with Mitchel's having a chance to equalise through Brendan Hickey and a chance to win it outright as Pauric McCloskey bulldozed his way through only to be smothered out of a shot by a ruck of defenders. In truth if this game could have carried on well into the night there would probably be next to nothing between these two as they battled back and forth, though Mitchel's forged a two-point lead in the first-half of extra-time thanks to two superb frees by James Loney. Yet it was McDermott's who had the final say, their second goal proving the winner.
Under a cloudless sky at Warwickshire headquarters, conditions could not have been better for football. Mitchel's once again shot out of the blocks to lead by four points to one, three of the scores (one free) coming from Paul Garvey who was to end with eight points (four frees). McDermott's hung in there with a James McDowell point before a scramble in the Mitchel's defence led to a foul on Conal Dowling for a penalty that was converted beyond Doyle by the corner-forward.
At the other end Garvey fired back a retaliatory point before Enda Molloy launched a superb score from distance to restore the Mitchel's advantage. McDermott's rallied well in the closing moments of the half however and took a two-point lead into the break thanks to a brace from Antony Moriarty – one of which was a punched effort that struck the bar – and a second Ted Duffy point. There was also a shout for a penalty at the other end with the last attack of the half, Eamon Sheridan racing through to fire just wide when nudged off balance as he pulled the trigger. When Andy Willis punched over the first score after the interval, and Pauric Crehan was dismissed for a second yellow card, things started to look a degree more difficult for Mitchel's.
They rallied exceptionally well at that point though, Garvey fisting over a close range point before Molloy landed his second point. They could have grabbed a goal when Gareth Boyle raced through on the right only to smack the near post, yet with Mitchel's shortening their approach play they reaped more rewards to draw level through a thirty-metre strike by Brendan Hickey. The closing stages of normal time were fought out fourteen-a-side as Ryan Bennett collected a second yellow card of his own and after Eamon Hanlon and Hickey traded points Mitchel's took the lead once more when McCloskey forced his way through the middle to fire over the bar.
Yet just when Mitchel's looked to be favourites, McDermott's struck back thanks to a phenomenal pressure free from Duffy before following up with a simpler free as the resulting kick-out was adjudged to have been picked up off the ground. With time running out, Garvey tapped over a levelling free to send the sides into extra-time and the ensuing drama that ultimately saw Sean McDermott's home.
Player of the match:
Ted Duffy (Sean McDermott's) Although hard to single one player out, Duffy's phenomenal free to level the game in normal time was a standout moment.
Score of the match:
As above, a pressure free from long range and out towards the left touchline was superbly curled over via the post by Ted Duffy. Turning point: Too many to recall but Joseph Dowling's winning goal was the ultimate turning point deep into extra-time.
Wides: Sean McDermott's(2, 5) 6, John Mitchel's (6, 8) 11.
Frees for: Sean McDermott's(11, 18) 24, John Mitchel's (9, 14) 24.
Black Cards: Sean McDermott's 1 (Declan Staunton 77), John Mitchel's 0.
Yellow Cards: Sean McDermott's 5 (Andy Willis 15; James McDowell 19; Ryan Bennett 22 & 48; Mark McMahon 50), John Mitchel's 3 (Pauric Crehan 15 & 40; Brendan Hickey 51).
Red Cards: Sean McDermott's 1 (Ryan Bennett 48), John Mitchel's 1 (Pauric Crehan 40).
Scorers:
Sean McDermott's: T Duffy (0-5, 4f); C Dowling (1-0, 1Pen); J Dowling (1-0); A Moriarty (0-2); J McDowell (0-1); A Willis (0-1); E Hanlon (0-1).
John Mitchel's: P Garvey (0-8, 4f); J Loney (0-3, 3f); E Molloy (0-2); B Hickey (0-1); P McCloskey (0-1).
Teams:
Sean McDermott's: M Felgate; L Gilbride, D Walsh, M McMahon; J Owens, N Gilbride, N McCooey; A Willis, R Bennett; J McDowell; T Duffy, C Folan; E Hanlon, A Moriarty, C Dowling. Subs: C Hayden (for Walsh 8); D Staunton (for C Dowling 38); J Dowling (for Moriarty 73); C Dowling (for Staunton 77).
John Mitchel's: A Doyle; C Clifford, C McDermott, E Sheridan; J Loney, F Doyle, L Hayes; P Crehan, D Waldron; G Boyle, B Hickey, E Molloy; P Hickey, P Garvey, P McCloskey. Subs: N Devlin (for Boyle 43); C Brough (for Loney 48); C Flynn (for F Doyle 53); D Kennedy (for P Hickey 63).
Referee: R Barry (Down)