Warwickshire Senior Hurling Champions 2012: Fullen Gaels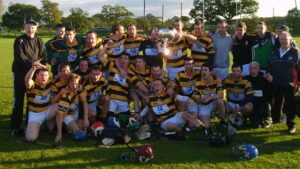 Match Report:
Sunday 14 October 2012

McEntee fires Fullen Gaels to Three-in-a-row
Fullen Gaels 1-10 v 1-04 John Mitchel's

There was no hiding place on the main pitch at Pairc na hÉireann Sunday as Fullen Gaels and John Mitchel's contested a full-blooded Senior Hurling Championship Final. In the end a bright opening to the second-half, launched by Raymond McEntee's goal after thirty-eight minutes, proved the difference as Gaels retained the title despite conceding a goal to substitute Des Kelly midway through the second-half.
Although a low-scoring affair, both sides pushed themselves to the limits as they battled for county honours. It was Fullen Gaels who started the game brightest as Paddy Duggan stepped forward to land the opener from a free, before Robbie Power did likewise with a free from a more acute angle. Tallying six wides in the opening fifteen minutes of play illustrated the chances Mitchel's were creating at the other end and those early misses were to prove costly as the game wore on. Both John Healy and Michael Ivors saw early efforts veer wide of target, before Liam Knocker was called upon to throw himself in front of a goal bound free by Kieran Courtney. Breaking quickly out of midfield, Mitchel's had a golden chance as Peter Healy burst through on goal only to send a low shot past both Tomas Goulding and the outside of the goalkeeper's far post.
Another free from Duggan edged Gaels into a three-point lead midway through the half, yet Mitchel's would start to make an impression on the score sheet in the closing fifteen minutes to hit the front for the first time before the interval. Emmett McCabe made no mistake from two tricky free opportunities to get the ball rolling for this side, before Steve Ahern cut inside his marker on the left touch line to fizz a fine strike over the bar for the leveller. With their tails up, McCabe latched onto possession to swipe a superb attempt straight between the posts and push Mitchel's into the lead.
Yet the tight nature of the game was about to be blown wide open by Fullen Gaels' start to the second-half. They retook the lead with the opening goal, Adrian Nash sprinting into the goalmouth and squaring to McEntee who rode a challenge to drill home past Michael Cremin. It could have been two had the Mitchel's' goalkeeper not produced a solid block to deny Alan Morrissey at the near post, while McEntee came similarly close with a fifteen-metre belt that fell the wrong side of Cremin's left-hand upright.
Amidst the goal attempts though came six points in succession to set up a seven-point lead for Gaels. A fine run by Power, who became an increasing influence in attack for his side, presented the wing-forward with the chance to drive over the bar from thirty metres and as Brendan Moloney turned to fire over from a similar range the reigning champions were in the ascendency. Two further points by Morrissey, one a superb effort from the touchline, kept the momentum going and with Duggan (free) and McEntee landing further scores Mitchel's were facing an increasing task going into the final quarter.
Step up corner-forward Kelly, appearing at the back post to fire a shot under Goulding and start a comeback charge. However, as Mitchel's went for goal with two frees at close range, Knocker and his backline charges held firm to keep Courtney at bay. It highlighted the commitment from both sides to keep one another out and as this keenly-fought contest drew to a close it was left to a superb side line cut from Power to register the game's last point. A fine victory for Fullen Gaels, who made the most of their second-half start to claim the title for a third year in succession.
Player of the match: Liam Knocker (Fullen Gaels)
Match Stats:
Wides: Fullen Gaels (3) 10, John Mitchel's (8) 12.
Frees for: Fullen Gaels (7) 10, John Mitchel's (4) 10.
Yellow Cards: Fullen Gaels 1 (Liam Knocker 65), John Mitchel's 2 (John O'Shea 39; Cormac Behan 56).
Red Cards: Fullen Gaels 0, John Mitchel's 0.
Scorers:
Fullen Gaels: R McEntee (1-1); P Duggan (0-3, 3f); R Power (0-3, 1f); A Morrissey (0-2); B Moloney (0-1).
John Mitchel's: D Kelly (1-0); E McCabe (0-3, 2f); S Ahern (0-1).
Teams:
Fullen Gaels: T Goulding; D Neylon, L Knocker, E O'Brien; C Maskey, J O'Shaughnessy, S Wallace; J O'Dwyer, S Lawless; R Power, P Duggan, B Moloney; A Morrissey, R McEntee, A Nash. Subs: D Maskey (for Moloney 53); R Wedel (for O'Brien 59); F Fahey (for O'Dwyer 64).
John Mitchel's: M Cremin; S Brough, D Kennedy, J O'Shea; C Brough, K Courtney, D Sheedy; C Behan, M Bermingham; E McCabe, P Healy, S Ahern; J Bergin, J Healy, M Ivors. Subs: D Kelly (for Ahern 49); M Boran (for O'Shea 54).
Referee: P Hoey