Warwickshire Senior Football Champions 2013: John Mitchel's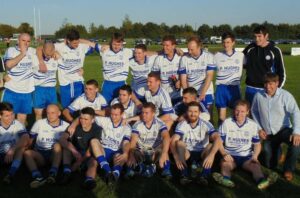 Match Report:
Sunday 29 September 2013

John Mitchel's end wait for Championship glory
John Mitchel's 0-12 v 1-08 Sean McDermott's

In a compelling conclusion to this season's Senior Football Championship, the merest of margins separated John Mitchel's and Sean McDermott's in Sunday's final at Pairc na hÉireann. For all money it looked as though Mitchel's were going to run away with it midway through the second-half only for fourteen-man McDermott's to come roaring back in the closing twenty minutes, with substitute Joe Owens blasting home the only goal of the game with nine minutes left to play. Yet they were unable to find that crucial equaliser at the end to force a replay – nineteen wides in all proving costly – as Mitchel's completed an unbeaten run in this season's competition to celebrate a landmark victory for the club.
Played in pristine conditions in front of a capacity crowd, the opening half proved a tense affair which saw the sides conclude it at five points apiece. Yet it was McDermott's who were making the greater inroads in attack despite going two points behind thanks to early strikes from Ray O'Sullivan and James Loney (free). Barely ten minutes had gone before a penalty was awarded to McDermott's for a foot block, however Eamon Hanlon was unable to steer his low shot inside Andrew Doyle's left-hand post. Two further frees in quick succession from Paul Garvey and Loney pushed Mitchel's further into the lead but back came McDermott's with four unanswered points of their own; a well struck free from Antony Moriarty started the run and the full-forward's second score was sandwiched by a fine brace from Paul Kavanagh.
McDermott's continued to press but were starting to rack up the wides, eleven in total in the first-half compared to two for Mitchels who restored parity with another superbly clipped set piece strike from Loney. McDermott's were then reduced to fourteen men as Dominic Walsh picked up two yellow cards either side of half-time and with that Mitchel's went for the jugular. Sean Smith had opened the scoring with the first attack of the half from an acute angle, before Garvey drilled over a sublime effort from the narrowest of angles to extend the lead to two. Another Loney free, his fourth, soon followed before Enda Molloy foraged along the left flank to fire over two further points from play to give Mitchel's a firm command on the match.
With a five point and one man advantage, things looked good for Mitchel's to end their wait for Championship glory. However, on such a poignant day, McDermott's were in no mood to relinquish their title without a fight and back they came, again and again. With Kieron Melody and Joe Owens introduced to the attacking lines there was a renewed impetus, exemplified by a strong run and strike from Melody that was almost steered home by an incoming Joe McBrien. Corner-forward Kavanagh was immense for McDermott's in the closing quarter of the game and shortly after he tucked a free over the bar he neatly fed Owens through and the substitute thumped a rasping effort beyond goalkeeper Doyle – game on.
Mitchel's were reliant on combative defence and the superb skills of Garvey, who was a constant out ball up front for his side. He turned his marker inside and out to send an excellent thirty-metre effort sailing high over the bar, before Fergal Doyle latched onto possession close to the forty-five to launch a long range effort straight between the posts. Garvey could have wrapped things up with four minutes left on the clock, again proving elusive he collected a through ball only to rattle the post with a crisp strike and with Mitchel's swarming on the breaking ball it fell to Garvey once more to wrap things up only for a great save from Macauley Felgate to deny him. Still McDermott's came back, Michael Hayden breaking forward from midfield to reduce the margin to two points before that man Kavanagh popped up with the ball to feed Padraig Quaid for his first point of the final. With the margin at just the single point McDermotts had their chances to force a replay, however late efforts from Melody and Kavanagh fell wide of target as time ran out.
In the end Mitchel's collective resolve saw them over the line, the final whistle greeted with jubilation from their supporters. They have seen off all challengers this season in both the league and the championship, coming through unbeaten against McDermott's in both the group stages and Sunday's final. On such an emotive day for both clubs there were cheers, there were tears and there was an end to a long wait for John Mitchel's.
Match Stats:
Wides: John Mitchel's (2) 6, Sean McDermott's (11) 19.
Frees for: John Mitchel's (9) 14, Sean McDermott's (10) 18.
Yellow Cards: John Mitchel's 1 (Padraig McCloskey 33), Sean McDermott's 2 (Eamon Hanlon 24; Dominic Walsh 33).
Red Cards: John Mitchel's 0, Sean McDermott's 1 (Dominic Walsh 36).
Scorers:
John Mitchel's: J Loney (0-4, 4f); P Garvey (0-3, 1f); E Molloy (0-2); R O'Sullivan (0-1); S Smith (0-1); F Doyle (0-1).
Sean McDermott's: J Owens (1-0); P Kavanagh (0-3, 1f); A Moriarty (0-2, 1f); J McBrien (0-1); M Hayden (0-1); P Quaid (0-1).
Teams:
John Mitchel's: A Doyle; C Behan, P Donnelly, B Sharkey; P Healy, F Doyle, C Brough; JJ Ambrose, P McCloskey; G Boyle, R O'Sullivan, J Loney; E Molloy, P Garvey, D Harkin. Subs: C Clifford (for Healy 9); S Ahern (for Sharkey 17); S Smith (for Harkin 35); C McDermott (for Ambrose 53).
Sean McDermott's: M Felgate; N Gilbride, L Gilbride, I Dooley; R Bennett, N McCooey, D Walsh; A Willis, M Hayden; E Hanlon, P Quaid, J McBrien; P Kavanagh, A Moriarty, C Dowling. Subs: J Dowling (for Moriarty 35); K Melody (for Hanlon 43); J Owens (for McBrien 45).
Referee: S McLaughlin (Donegal)