Warwickshire Senior Hurling Champions 2018: John Mitchel's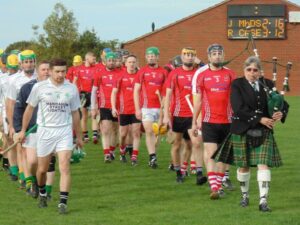 Match Report:
Sunday 7 October 2018
Classy Mitchel's retain their Warwickshire crown
John Mitchel's 5-24 v 0-03 Erin go Bragh

John Mitchel's ran out comprehensive winners over Erin go Bragh in Sunday's Warwickshire final at Pairc na hÉireann.
The score line may have been one-sided but that takes nothing away from the commitment shown by Erin go Bragh, who never threw the towel in against a side which fields the bulk of the county's hurlers. They were behind early on to scores from Niall McKenna and Emmet McCabe but retaliated with a warning shot of their own from Doug Sweeney that bounced narrowly wide of target.
Two set piece scores from Kieran Boxwell registered their opening points of the match but the quality of the Mitchel's attack was evident as they took control for the rest of the opening half. Niall Kennedy landed a quick brace of points before a dropping free was batted back into the path of McKenna who slalomed his way towards goal to power into the back of the net from ten metres out. McKenna and Kennedy were landing scores from a range of positions, before full-forward Padraic Crehan got in on the act with two points (one free) to leave Mitchel's firmly in control at the interval.
Go Bragh did their utmost to raise their game but Mitchel's demonstrating their clinical capability with three goals in quick succession to all but end the game as a competition. Up first was Breen Fallon to find the back of Dickie O'Brien's net, before Kennedy cut in from the left to fizz a clean strike into the far corner of the net. Mitchel's were rampant now, Ogie Long tapping home a close range fourth before further points from McCabe and McKenna stretched the lead further.
The game became scrappy in the final quarter, although Erin go Bragh's battling brought a consolation third score through Martyn Fleming. At the other end the points kept on coming, Kennedy tagged on another point with an excellent score from a tricky acute angle, before the fifth and final goal came for Kelvin Magee as the wing-back drove up the field to round off another sweeping Mitchel's move. There was still time for McKenna (free) and Crehan to round off the scoring for Mitchel's as captain Dean Bruen received the county title for his side.
Player of the match:
Niall McKenna (John Mitchel's) The Antrim forward sparkled on a crisp Autumnal day, landing some excellent scores from play to add to his first-half goal.
Wides: John Mitchel's (8) 19, Erin go Bragh (4) 5.
Frees for: John Mitchel's (6) 9, Erin go Bragh (6) 6.
Yellow Cards: John Mitchel's 0, Erin go Bragh 3 (Kieran Boxwell 8; Joe McDermott 19; Doug Sweeney 22).
Red Cards: John Mitchel's 0, Erin go Bragh 0.
Scorers:
John Mitchel's: N McKenna (1-8, 1f); N Kennedy (1-4); P Crehan (0-6, 1f); B Fallon (1-1); O Long (1-0); K Magee (1-0); E McCabe (0-3, 1f); W Allen (0-1); D Kelly (0-1).
Erin go Bragh: K Boxwell (0-2, 1f, 1'65); M Fleming (0-1).
Teams:
John Mitchel's: P Crean; R Curley, D Bruen, M O'Regan; K Magee, P Scally, W Allen; D Kelly, G Lennon; E McCabe, N McKenna, N Kennedy; B Fallon, P Crehan, O Long.
Erin go Bragh: D O'Brien; M Harrigan, J McDermott, D Rushe; J Boxwell, T Kelly, J McNamee; C Boyle, K Boxwell; J Harrigan, E McWilliams, S Frankum; M Fleming, L O'Hanlon, D Sweeney.
Referee: P Hoey