Warwickshire Senior Hurling Champions 2014: John Mitchel's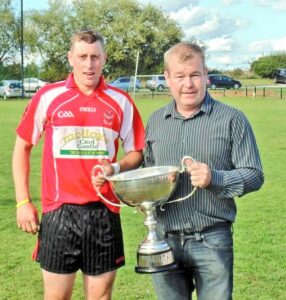 Match Report:
Sunday 31 August 2014

Mitchel's return to summit with Kelly hat-trick
John Mitchel's 0-12 v 0-08 St. Barnabas

John Mitchel's are champions of Warwickshire once more, ending a five year wait by defeating St. Barnabas at Pairc na hÉireann on Sunday afternoon. Des Kelly's hat-trick sent them on their way, with his fellow corner-forward Sean Hennessy proving peerless from the set piece with six frees to add to his goal midway through the first-half. Conor Robbins top scored for Barnabas with five points (one free) but it was Mitchel's who proved too strong as they reclaim the title they last won in 2009.
With their main rivals Fullen Gaels switching to the new Lancashire Hurling Championship, Mitchel's now advance to the All-Britain series as Warwickshire representatives. Their first-half display proved effective in establishing a sizeable lead, four goals in the opening period good reward for their attacking intent. Early frees from Hennessy set them on their way before John Reddan fizzed an enticing pass into the goalmouth where Kelly burst through to bobble a low shot beyond Jack Crowley. They made it two a few minutes later thanks to another direct pass into the full-forward line, this time it was Pauric Crehan who profited as he sprinted through to arrow a shot into the roof of the net from ten metres out.
Barnabas almost grabbed a goal of their own at the other end when Fergal O'Callaghan struck a smart shot that required a solid block from Seamus Brough. Robbins was their main outlet, two excellent scores from distance proving the highlight as they looked to gain a foothold in the match but it was Mitchel's who were making the greater in-roads and they grabbed their third goal when Hennessy stole a march on the defence to fire past Crowley. A speculative puck into the goalmouth from Kieran Courtney led to a fourth goal for Mitchel's just before the half-time whistle, the alert Kelly pouncing ahead of incoming pressure from Crowley and Ronan Dirrane.
Their first-half endeavours had seen Mitchel's open the second-half thirteen points to the good and they continued on the front foot when Kelly bagged his hat-trick thanks to another smart finish from fifteen metres out. Reddan capped an excellent performance in midfield for Mitchels when he collected Declan Leonard's cross pass to blast home from some thirty metres.
Player of the match: John Reddan (John Mitchel's)
Wides: John Mitchel's (7) 16, St. Barnabas (5) 12.
Frees for: John Mitchel's (6) 10, St. Barnabas (5) 8.
Black Cards: John Mitchel's 0, St. Barnabas 0.
Yellow Cards: John Mitchel's 1 (Dwayne Sheedy 36), St. Barnabas 1 (Mick Phelan 44).
Red Cards: John Mitchel's 0, St Barnabas 0.
Scorers:
John Mitchel's: D Kelly (3-0); S Hennessy (1-6, 6f); J Reddan (1-3); P Crehan (1-1); W Healy (0-1); C Brough (0-1).
St Barnabas: C Robbins (0-5, 1f); N McNamee (0-2, 1f); C McBride (0-1).
Teams:
John Mitchel's: J O'Shea; L McGreevy, J Bergin, S Brough; D Sheedy, D Kennedy, C Brough; S Conlon, J Reddan; D Leonard, K Courtney, W Healy; D Kelly, P Crehan, S Hennessy. Subs: S Ahern (for Kelly 40).
St. Barnabas: J Crowley; B Kennedy, D Byrne, R Dirrane; L Greaney, M Dillon, C Doyle; C McBride, N McNamee; D Milligan, S Dirrane, C Robbins; M Phelan, J Duffy, F O'Callaghan. Subs: C McDonald (for Dillon 30); C Heffernan (for Phelan 47); B Gaffney (for O'Callaghan 47).
Referee: D Heffernan